These recipe I learnt from
Mayunk
Bhai's
Mom Mrs. Jain. She Used to take cooking classes. She is
wonderful
cook. As we know all
housewives
have there
wonderful
secret recipes, so here is few of them. Today
I'm
writing a full menu for small Get Together (GT). This full menu I learnt from
auntie
only. Just I'm including one starter & vegetable raita.
The menu is :
---------------
Chhole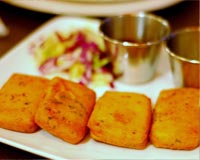 Bhatura
Palak
Pulao
Vegetable
Raita
----------------
Choco
Vanilla Sundae
----------------
Paneer Pakoda
Ingredients: (serves 4)
Paneer thin slices 12 n0s
Bengal gram flour (besan) 60 gm
Salt to taste
Chili powder to taste
Oil to fry
Method:
Prepare a smooth batter with gram flour, salt, chili powder & water (pouring consistency).
Dip paneer and fry in hot oil.
Serve piping hot with mint chutney or tomato ketchup.
Chhole
Ingredients:
Chhole 250 gms
Oil 15 ml
Chili powder 1 tsp
Jeera powder 1/2 tsp
Coriander(Dhaniya) powder 1/2 tsp
Salt to taste
Jaggery crushed 1 tsp
Tamrind pulp 2 tsp
Method:
Soak chhole overnight. Pressure cook till full done.
Heat oil, add jeera pwd, dhaniya pwd, chilli pwd, cooked chhole & cook for 2 mins.
Add jaggery, tamarind pulp & salt, mix well.
Add little water if required.Add freshly chopped coriander & serve hot.
Bhatura
Ingredients:
Rfined flour 400 gm
Yogurt (curd) 115 gm
Soda bicarbonate 1 tsp
Salt to taste
Oil to deep fry
Method:
Make dough with curd, salt, soda, flour & little water (fairly wet).
Keep aside for opne hour.
Knead well. Roll our puries of 6" diameter.
Fry them in hot fat like puries & serve hot with chhole.
Palak Pulao
Ingredients:
Pulao rice 500 gm
Jeera 1 tspBay leaf 2 nosPalak (spinach) 250 gm

Salt to taste

Oil 20 ml

Method:
Wash rice and soak.

Wash n chop spinach.

Heat oil, add jeera, bay Leaf & chopped spinach.

Cook spinach till well done.

Add rice, water & salt. cook till done.
Vegetable Raita
Ingredient:
Cauliflowe 100 gm
Carrot 100 gm
French beans 50 gm
Green peas 20 gm
Potato 50 gm
Pomogranade 50 gm
Curd (yogurt) 250 gm
Salt to taste
Sugar to taste
Black pepper powder to taste
Method:
Boil all vegetables separately, refresh all except potato.
Whisk curd with sugar, salt & pepper powder.
Mix vegetable, pomogranade & curd together. Now its ready to serve.
Choco Vanilla Sundea
Ingredients:
Vanilla ice cream
Chocolate sauce
Dry fruits Chopped
Tuti fruity
Method:
Pour chocolate sauce from the rim of glass and make design.
Add one scoope of ice cream & and dry fruits and tuti fruity.
Repeat it again & pour chocolate sauce over it.
Garnish with lots of nuts & cherry.